July 18, 2023 - Vancouver, British Columbia. Indigo Exploration Inc. (the "Company") (TSX-V: IXI, OTCQB: IXIXF, FSE: INEN) is pleased to provide an update to the ongoing lithium brine sampling program in Alberta, Canada. Last week a field crew gathered brine samples from three more wells; one at the Fox Creek East project (see Figure 1 below) and two on the Fox Creek West project (see Figure 2 below). All samples are at AGAT Laboratories for chemical assay analysis with results anticipated within two to three weeks.
"Our lithium brine sampling program continues to advance and is anticipated to be completed in the next six weeks. Assay results from the initial batch of samples submitted are anticipated in the coming one to two weeks. To recall, this sampling program was to provide a large volume of representative samples for both the upcoming resource estimate and planned extraction testing" commented Paul Cowley, President and CEO of Indigo Exploration.
Figure 1: Fox Creek East Sampling Locations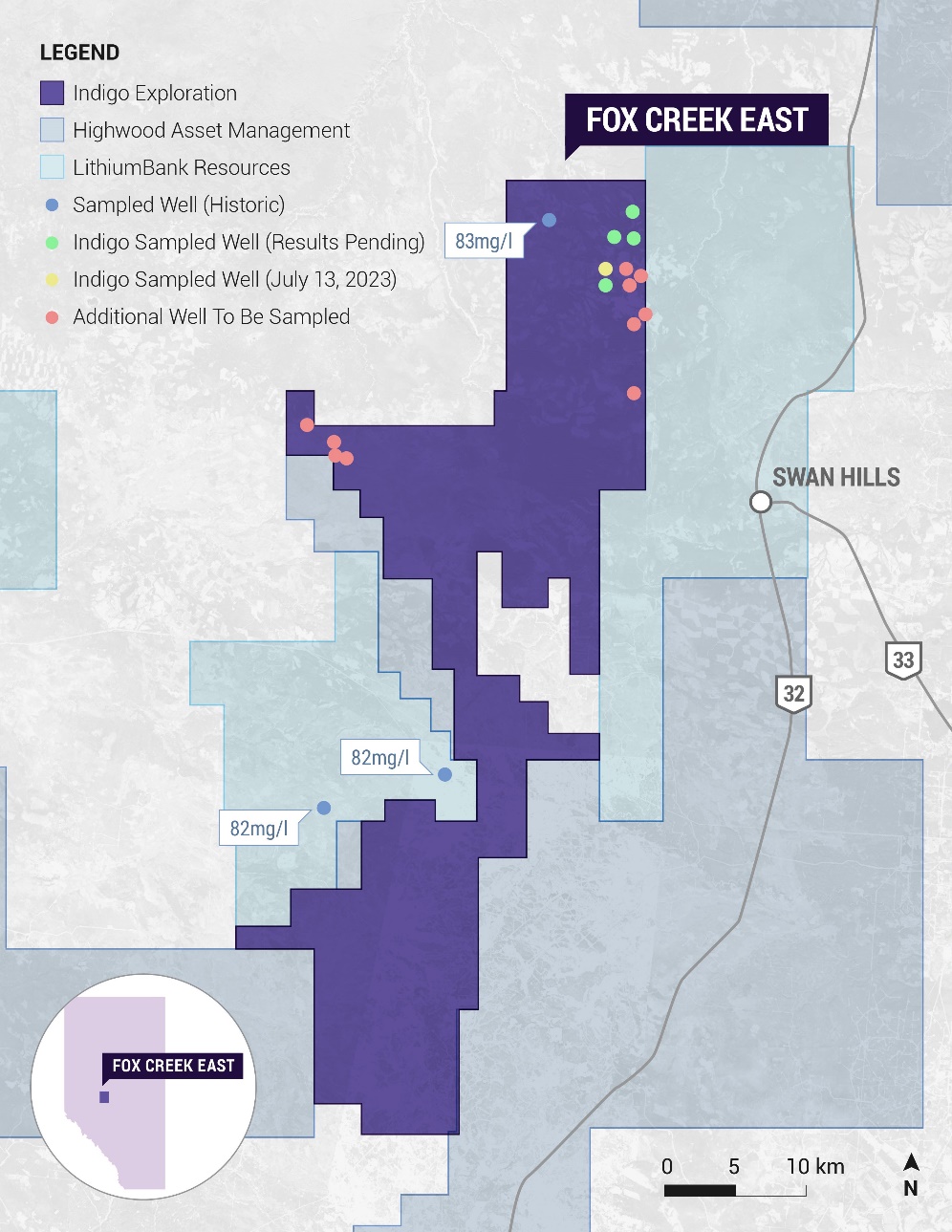 The map above shows the location of the one well sampled last week (yellow), four wells sampled in early July (in green), the 10 additional wells identified for sampling (red), and results from historical samples (blue).
Figure 2: Fox Creek West Sampling Locations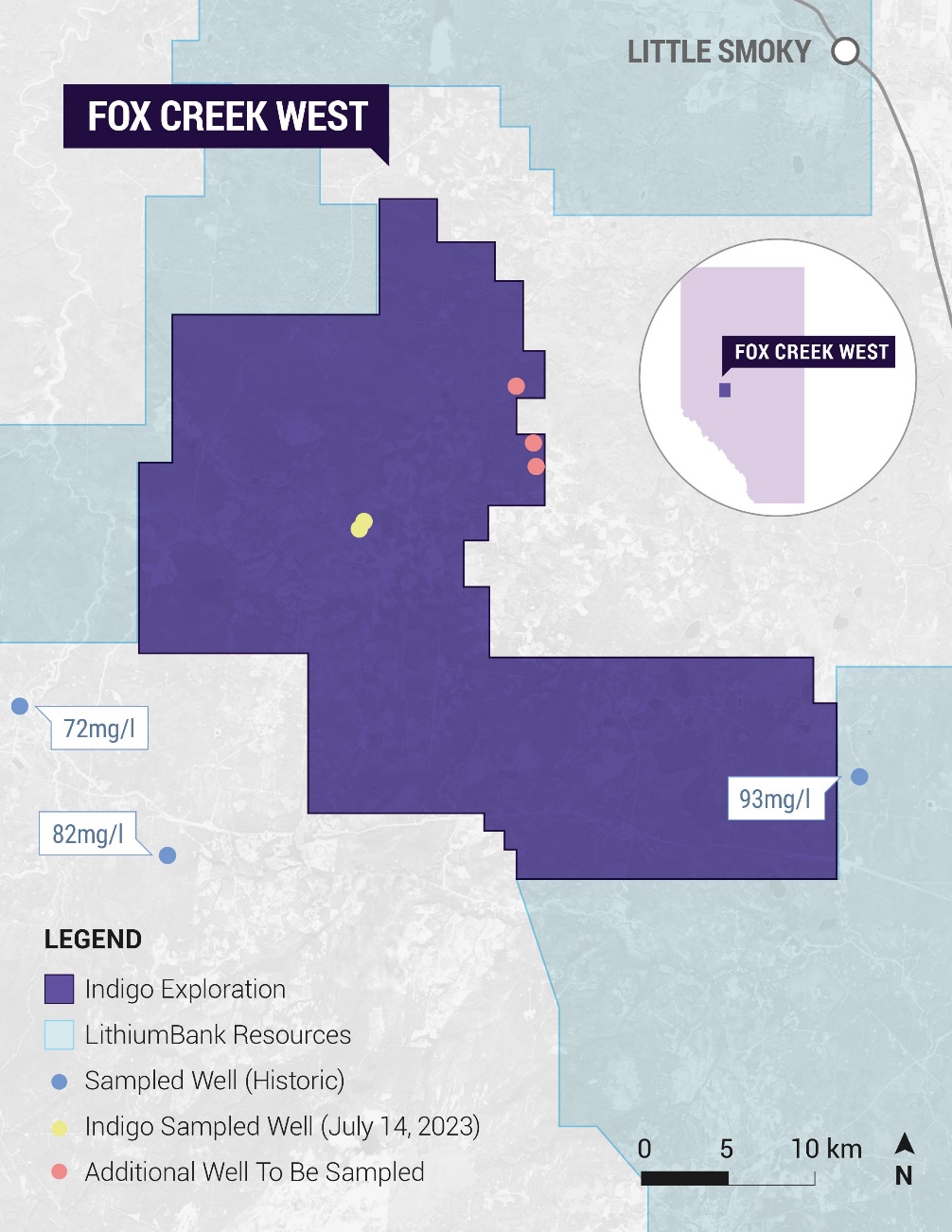 The map above shows the location of the two well sampled last week (yellow), and results from historical samples (blue).
About the Fox Creek Lithium Brine Projects
The Fox Creek Projects are located adjacent to active exploration and development work being undertaken by Lithium Bank (TSXV:LBNK), namely their Boardwalk and Park Place projects. The Fox Creek Projects cover an area of 114,522 hectares and is comprised of the Fox Creek East (45,568 hectares), Fox Creek West (59,738 hectares) and Fox Creek Central (9,216 hectares) areas. The first pass exploration and sampling program will target 5-10 wells in each of the Fox Creek East and Fox Creek West areas. These areas are targeting the Devonian-aged reefs, including the Swan Hills Formation of the Beaverhill Lake Group, which has the highest consistent lithium concentrations according to sampling data from the Alberta Geological Survey.
About Indigo Exploration
Indigo Exploration is an emerging petro-lithium brine explorer with 147,904 hectares of Metallic and Industrial Minerals permits in Central Alberta, Canada. The Company's three primary lithium projects are the Fox Creek
(114,522 hectares), Leduc (23,488 hectares) and Peace River (10,048 hectares) which are located within the heart of lithium exploration and development in Western Canada.
On Behalf of the Board of Directors,
"Paul Cowley",
President and CEO
For further information, please contact: Paul Cowley: (604) 340-7711 Website: www.indigoexploration.com
Bradley Parkes, P.Geo., VP Exploration and Director of Indigo Exploration Inc., is the Qualified Person as defined in
National Instrument 43-101, who has read and approved the technical content of this news release.
This news release includes certain forward-looking statements as well as management's objectives, strategies, beliefs and intentions. Forward looking statements are frequently identified by such words as "may", "will", "plan", "expect", "anticipate", "estimate", "intend" and similar words referring to future events and results. Forward-looking statements are based on the current opinions and expectations of management. All forward-looking information is inherently uncertain and subject to a variety of assumptions, risks and uncertainties, including the speculative nature of mineral exploration and development, fluctuating commodity prices, competitive risks and the availability of financing, as described in more detail in our recent securities filings available at www.sedar.com. Actual events or results may differ materially from those projected in the forward-looking statements and we caution against placing undue reliance thereon. We assume no obligation to revise or update these forward-looking statements except as required by applicable law.
Neither the TSX Venture Exchange nor its Regulations Services Provider (as that term is defined in the policies of the TSX Venture Exchange) accept responsibility for the adequacy or accuracy of this release.